---
Chasing these bushfires provided an opportunity for me to experience everything from the spectacular nature and awesome power of a fire storm to the unfortunate loss of property that was unfolding as I photographed and filmed. By being there, it looked and fealt real - it was scary and definitely unlike watching footage on television.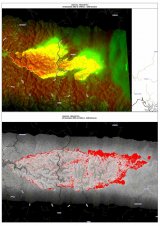 Colour thermal image depicting the hot spots in the Glenorie fires. Courtesy NSW Police Helicopter.
And where did it all begin? I came home from work and thought on the way home - Total Fire Ban and no fires? It was unusually quiet. North west winds and drier air had kicked in and this fealt totally unusual for what we were becoming accustomed to this spring and summer. I got home about 3pm. I noted what can only described as a "ciggeratte" (thin) smoke plume to my north - I never took much note of it.
What seemed a very short time later 10 to 20 minutes perhaps, I was alerted to a bushfire. One look and I was astonished - the same thin plume had errupted into strong smoke plume with the dark dense smoke rising rapidly. I immediately grabbed the camera gear and was off. I was determined to get up close and personal to the firestorm to learn more about its behaviour and see if my "techniques" were useful when put to the test.
I actually thought the fire was closer and made sure I was not blocked off so took some back roads. I would quickly discover that the smoke plume had become major and was in the region near Scheyville - further than I had initially anticipated. At the same time I caught glimpses of the fire to the south that became known as the Menai fires. Some video footage at various stages clearly demonstrated the evolution of this rapidly developing catastrophe. Each plume was stronger than the previous and all dense black smoke. The contrast was simply phenomenal. I also noted around this time that there seemed to be a precipitation virga region of ash and smoke from the underside of the smoke anvil. Was this perhaps responsible for the amber starting spot fires ahead of the fire front?
In Scheyville, and it was evident that the firestorm was a little further away but at least I was close.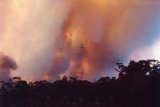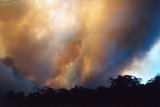 With limited views, I took the calculated risk of getting closer - a decision that proved successful. Emergency services including fire vehicles and helicopters were frantically at work. Not often are conditions so volatile that a firestorm quickly becomes so severe that fire fighting turns to saving property and life as the top priority. This firestorm was clearly powerful and advancing relatively rapidly. It allowed little time to organise fire fighting equipment in my view. What I observed from here on was the professionalism and the dangers first hand that the fire fighting network had to deal with.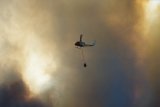 Just south or south west of Glenorie, I stopped one last time to film the southern side of the now extensive smoke plume. From here, it was destination The Old Northern Road. I filmed the transition of, and incredible changes in, colour as I passed slowly under the smoke plume. It seemed as though the fire was close but yet far away. This feeling was erased once the sun disappeared - a sort of eclipse. I was now under it.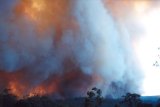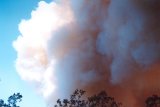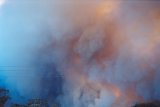 There was the main smoke plume but also the lower level smoke. Following some fire trucks eventually lead me to a region perhaps ideal though many trees limited views. Little did I know I was situated in a region that was soon to be engulfed. Extensive footage and some photographs were shot in this location and a couple of locations further north. The extremely organised nature of the whole firestorm became apparent from these locations. It was interesting that the firestorm was in two sections and also exhibited the "multicellular" nature of movement observed in severe storms. I found this quite fascinating - certainly one of the most important insights learned from this bush fire chase.
Observing from just north of Forest Glen provided clear evidence that wind shear dynamics were creating a "rotational" structure in the main fire to the west. From this location, fire was observed scathing the tops of the trees on the near horizon. Lower level smoke advanced in the valley below. Wanting to steer away from the smoke, I moved on.
The final stop under the smoke plume was rather dramatic. Fire crews began retreating and there were reports of injuries. It seemed there were insufficient resources and the fire front was advancing too quickly. I also learned that some of the residents around me and whom I had conversed with had property in the affected area (sadly some would have lost their property). I felt so helpless and tried my utmost best to show some sense of dignity towards those around me. Suddenly - flames down the road. Shortly after, it was in the paddock in the fields to the east. Spot fires aided the firefront to accelerate foward. The whole spectacle was truly awesome at this point in time with sky and smoke above me, flames only a few hundred metres away and the sun eclipsed in the smoke. Finally, I was given the order to evacuate.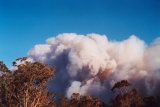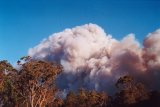 From outside, I could only imagine the intensity of the inferno and the stages of intensity it exhibited. I was hot tired and extremely thirsty. There was little chance of getting close again so it was time to head back home - in time for the eclipse. It was irresistable though to not photograph some more of the external structure of the separate plumes.
Klipsi to get a welding mask to view the eclipse. It was in its initial stages already and it was certainly enjoyable to observe it for the first time. As it neared the horizon, the haze acted as a natural filter and an opportunity to observe the eclipse directly. What an afternoon that was - certainly not what I had anticipated.
Some photographs taken on the 5th December 2002
If you (or someone you know) have any photographs or video of this firestorm or any other type of severe storm such as damage, the storm structure itself or hail, please feel free to contact Jimmy Deguara. Your contributions are very welcome. Please any photographs or video footage are important so don't discount anything.
---