Weather data for 4th November 2000 - satellite pictures, charts and radar
---
Extensive altocumulus castellanus dominated the morning sky.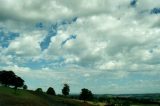 I headed west from McLeans Ridges at 12.00. Storms were already already developing from the NW through to the SW, mainly on the eastern slopes of the Great Divide.
By 1pm I was at Mullumgum which is about 30km west of Casino on the Bruxner Highway. A storm with intense precipitation and a nice flanking line to its SW was edging along the Richmond Range. I wasn't all that familiar with the area, but continued on to Mallanganee where the highway rises up about 300 metres to pass over the Richmond Range. There was a dirt road heading north along the top of the range, which turned out to be the most beautiful storm spotting location: the road was at the very top of the ridge which is aligned N-S, and there are virtually no trees thanks to the cattle farmers! What a view - and in all directions! I stayed here a while and watched the first storm edge towards the NE, while new cells gathered to my SW and W.
Shortly before 2pm a cell to the SW developed a lovely ragged base and soon after the first CGs were occurring. These became quite frequent (every few seconds) with deep rumbling booms spreading through the valleys. Soon intense precipitation with a hail shaft formed and only about 3ks S of me. The storm was very slow moving. It was apparent new activity was forming on the S and SW side of the storm with new rain free ragged looking bases.
I decided to head back east as this activity seemed it would generally propagate that way, which it did. By 3.20pm I was back in Casino with the storm bearing down on the area. Several regions of intense precipitation and probable hail shafts were observed. A detached sort of shelf cloud formed north of the precipitation core just before it hit town. Around 3.30pm the first large drops fell, followed by some small hail. Heavy rain continued for about 20 mins with drains in town awash.
As this storm started to clear the area, another was becoming visible to the SSW. Calls from John Graham and Dann Weatherhead confirmed the pulsey nature of the storms around the North Coast (but most into the red on radar), but a more significant storm was making its way NE. I caught sight of a magnificent inflow region on this storm's NW flank. There were several lowerings and the whole feature appeared to be a wall cloud, but I was a little too far north of it to be sure. A prong formed on the left (eastern side) of this and a funnel shaped protrusion in the middle. This unfortunately did not last long and the whole inflow region soon dissipated, and not long after the whole storm weakened. A call from Jimmy who has made his way to Grafton indicated the storm looked supercellular from his southern vantage point, but was surprised to hear how quickly it decayed (like the Sydney tornado storm the day before).
I was rather pissed off it collapsed like that on me as I was in perfect position to observe severe features, I also had a terrible headache, and was just going to head home when I noticed a marked lowering to the W from a new storm. At first I was still going to abandon watching it, but it soon became very photogenic and very interesting, and seemed to be moving in a NE direction, bringing it closer.
I moved to a better location and watched this storm punch out CGs and develop some more intense rainfall areas. It was after 5pm now so the colours from the sun getting lower in the sky were nice. There was a distinct green tinge in the clouds for at least 20 minutes.
I headed home around 6pm as this storm petered out.
About 7pm this evening an enormous storm came into view to the N. This was near Beudesert in QLD at the time, and with the setting sun was a magical sight. This beast was around 15km high and had a huge backshear. Awesome !!!
Later on a small storm cell developed just off the coast E of my place, producing a terrific lightning show.
Weather data for 4th November 2000 - satellite pictures, charts and radar
---

MEDIA REPORT

DORRIGO 04/11
Hail the size of "tennis balls" cut a swathe 3km long just west of the town
shortly after 12 midday. Dozens of cars were smashed while their occupants were
attending a funeral.

---
Check all the action from SE QLD by Brisbane Storm Chasers
---