Jimmy Deguara's chase on the same afternoon.
---
Another great chase today with much larger storms than yesterday.
Today I chased in the area between Casino and Kyogle - I didn't have to venture too far, there was just so much development. A very large system formed on the Richmond Range from about 1pm and just kept growing - a massive plume of anvil spread eastwards with plenty of mammatus overhead, and a solid curtain of precipitation to my west. There was another area of storm development to the SW, but not as strong. To the far S around Coffs Harbour a very large storm has formed, and Jimmy was on to that after having stayed at Grafton overnight.
This storm to my west was very slow moving, edging E-NE. Plenty of CGs and inflow lowerings on the NE side. At first I was located east of the cell but moved north along the Summerland Way to be about 10ks S of Kyogle and NE of the storm. This cell soon became severe in appearance, with intense precipitation on its SW side and a beautiful curve of inflow bandind on the NE. Several suspect lowerings formed along this boundary, and over this the hailstorm green tinge. The updraft was soon overhead and CGs were hitting rather close. I had to decide whether to barrel north up the highway out of the storm or find a vantage point.
I did the latter after I spotted a large carport at the side of a field next to a dirt road. The farmer was still ploughing the field but soon returned and had no problems with me stopping there. He headed off home just before the storm hit at 3pm. It was quite worrying at first, this menacing arc of precipitation heading my way. I just hoped there would not be large wind blown hail.
Swathes of rain were driven in by 40knot W winds. This was soon followed by hail to 1cm, though this was quite sparse and did not last fortunately. It seemed that the heaviest rain passed just to my south.
I headed through the rain back south hoping to see what the other storm was up to. I wasn't disappointed !! A pronounced wall cloud was about 10ks to my SSW and then I noticed scuds under this - then it was a column of scuds - bloody hell a funnel !!! I screeched the car to a halt beside the highway for photos and video at 3.20pm. It was a definite column of cloud not extending to the ground that I could make out, but a lovely sight. I managed to stand on a nest of ants at this point and received a nasty bite that bugged me for the next hour. But who cares, a funnel. It lasted a few minutes before dissipating.
I moved to a side road to continue to watch as an extensive line of activity stretched from the persisting wall cloud westwards for about 30ks. CGs were going beserk along this whole line, many lowerings formed under updrafts and a shelf cloud developed on the SW part of the line. It was a great sight.
Within 20 minutes it had spread to my location with very large drops of rain and gusty S outflow winds. A few bits of hail fell but nothing much. There was extensive cloud turbulence overhead before heavy rain hit.
Further activity developed along this E-W line with lovely CGs and intense precipitation curtains. It was apparent a large storm was now just to my NE. Around this time a tornado was cutting a path of destruction from just W of Nimbin to just N of the town. The storm grew into a monster HP supercell and tracked over the Nightcap Range and just east of Mount Warning. Another tornado touched down along the Mount Warning Road near Uki in the Tweed Valley tracking from SW to NE, destroying a house and causing massive tree damage in the rainforest.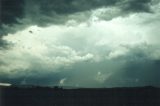 I moved south a caught a glimpse of something magic to the far south. Sure enough the supercell Jimmy had been on to. It was absolutely huge, just like the one I saw in SE QLD the evening before: punching up around the 15-16 km in height. Massive backshearing, and overshooting dome. Masses of boiling cumulus surrounded the W and NW flanking line. And it was perfectly illuminated by the lowered sun.
I decided to head east towards home, hopefully to get a better view of the supercell, but it became obscured soon afterwards and I was caught in a large area of outflow dominant rain, with some quite heavy falls between Casino and Lismore.
When I arrived home at 6pm the area was under the influence of 30-40 know NE winds from the outflow of the large cell further up the coast. Stratus streamed inland and some further congestus popped up over Lismore. To the ENE a cell passed over Byron Bay with intense CGs, and then became illuminated by the sunset. Lovely !
Thanks to John Graham for radar updates.
Weather data for 5th November 2000 - satellite pictures, charts and radar
---

MEDIA REPORTS

NIMBIN 05/11
A tornado has ripped through the area from Stoney's Chute to Nimbin (a distance
of 6km along a ENE track), damaging several homes and bringing down large trees.
A talkback caller has reported 4.5cm diameter hail in Nimbin.

UKI 05/11
Hail the size of "tennis balls" hit the small village of Uki, which is NE of
Nimbin and just ESE of Mount Warning.

SOUTH TWEED HEADS 05/11
Flash flooding in the industrial areas with 30cm of water over some roads.

---
Check all the action from SE QLD by Brisbane Storm Chasers
---