---
The Storm Chase ....

As had been the case in our area for the lest few possible thunderstorm setups, I didn't believe there was any great chance of storms and seemed to ignore all the variables I usually look at to help forecast. For what I had looked at, I was concerned there would be insufficient moisture for storms, and instability wasn't all that great. My only real encouragement for the day was that Anthony Cornelius was very keen to come and chase down in the Northern Rivers as he thought we could end up with a good lightning display. I was hopeful however that the approaching southerly change and associated instability would increase our chances as the evening progressed.

Most of the day was dominated by clear skies. It wasn't till around 1.30pm that I noticed Cu had begun to develop along the ranges to my SW through to the NW. Very weak and tiny cells began to develop around the Dorrigo area soon after, and I was quite encouraged to see some early activity, but these cells were only pulsing into green on radar and then decaying rapidly. Anthony decided to head down here to chase the later activity and so set off from Brisbane. Michael and I kept an eye on radar and on the sky throughout the afternoon.

By 2.30pm things were certainly getting interesting with slightly stronger storms, that were quite pulsey, developing along the ranges, and heading generally NE. This was quite good, as we were worried storms would head more northerly and hug the ranges. I could just see a bit of anvil to my SW (trees restrict the view) and so got excited!! It felt as though storm chances were now looking good! But a bit of bad news came in, Anthony had been called back to work when he'd reached the NSW/QLD border, and had to head back to Brisbane!! Doh!

At 4pm I decided I should go for a run down into the paddock to have a look at cells and take some photos. Once in position, about 800m from my house, I had views from the west to the south, and so could see a line of activity along the ranges. Once cell about 40km NW of Grafton was looking fairly weak, but seemed to be developing a bit of an overshoot. I guess due to it's fairly low top, it didn't take much to punch through it's first anvil and go a little higher. Radar at this time showed the cell strengthening to solid pink. I took a photo of the cell and also observed some distant cells to the S which also looked promising.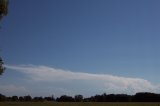 I got back home and checked radar, and it confirmed the cell was strengthening, and a large line of cells were developing right up to just west of Casino. None of them were very strong however. I suggested to Michael that we head out as it may be our last opportunity to chase for a little bit due to the current weather pattern. So we decided to head out to Casino in the hope of catching the stronger cell. After meeting at his place we went to Parrots Nest and the view was....well, pretty disappointing. Very low topped and high based cells were only producing very light precipitation to our WNW, W and WSW. The only interesting feature was that the anvil was quite thick on the cell to the WSW, with a bit of mammatus.
By 5pm we were thinking we'd only hang around for another half hour and if nothing happened then we'd head home. What was interesting were the distant cells to the south, which looked to have some impressive updrafts and a large, well defined anvil. The sun soon disappered behind an anvil and allowed us to have a decent view of the cells west of us. It was from this point that things got interesting! By 5.15pm we were able to see quite a nice RFB developing, which suggested the cell was beginning to do something. A qucik radar update from my brother suggested that the cell was strengethening and heading towards Casino. He also mentioned that the cell S of Grafton was red on radar!
Finally, by about 5.20pm after I had suggested we should have seen some CGs with a RFB like that, I saw the first CG of the day! "It's officially a thunderstorm now" we said! We decided to head towards Casino to get a closer look at the lovely developing RFB. We headed down to Fig Tree Lane, which gave us a perfect view of the cell to our west. By 5.30pm this LP (low precipitation) cell was going off!! We were seeing severeal clear air CGs that looked great and the RFB was only looking better, and even had a slight green tinge in the centre. By 5.40pm we were beginning to see some heavy precipitation on either side of the cell and radar relflected this. The very small rainshaft looked so intense, and also had beautiful curvatures in it!
By 5.45pm the cell was now producing a microburst - and it looked quite severe when seeing how quickly the rain was spreading out! What a sight it was! A massive RFB, CGs coming down all around the place, and a microburst! We speculated that there must be hail in this cell, and decided it would be fun to head into it!
Whilst driving towards Casino we just had to stop for a photo when we saw the massive RFB had developed into a significant lowering (although still quite high based) with lovely curvature formation!! Looked great, but rapidly decayed as we took photos. The cell was now losing intensity.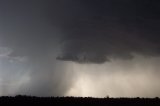 We drove into town with CGs pulsating all around. The high based of the storm meant CGs looked VERY tall when they flashed near us. We certainly had some close hits and loud cracks!! Driving through town we began to get intense precipitation at around 6pm. We went down the road to Tenterfield hoping to get some hail where we thought the cell was most intense, however we only got very heavy rain, that caused some minor flash flooding. We turned around and headed back towards town, driving through the intense rain. Sunlight was starting to appear as the cell moved away from us, and our attempt to go up the Summerland Way to catch some more storm was stopped when we thought it was a waste of time! On top of that I was actually meant to be home for a fmaily dinner in 10mins!! After reviewing radar, a significant patch of red developed over the town at 5.50pm. I believe that had we initally gone up the Summerland Way we may have received some hail, but at the time it looked more likely to be on the SW side of Casino. Not to worry, I'm sure we'll get some hail sometime this season!!! We saw a nice double rainbow on the way out too!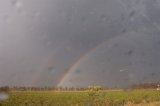 After getting home and having dinner somewhat late I was ducking outside all the time to check the cells advancing from the S. Thunder was audible and I saw a few CGs. The following photos were taking between 7.30pm and 7.45pm of the various cells and sunset colours.
The Lightning Show ....
Around 8pm the lightning from a newer cell to my south was very alluring. I suggested I may head out, but mum wasn't very impressed since we had guests and she told me I was to stay home. About 15mins later my Dad, who had been outisde, came rushing in telling me we should go out and get some lightning photos!! Good old Dad! So I let Michael know that my Dad, a friend and me were going to eastern Alstonville to watch the cells. Michael joined us up there and by 8.30pm we were watching a storm with a great roll cloud structure advance NE to pass just east of us. We took quite a few photos of this activity, but we were disappointed with the lack of CGs. I ended up having to delete most of my photos from this storm as I ran out of room on my memory card when the better CG show began.
Around 9pm Dad took my friend back home while Michael and I stayed. It seemed that cell after cell was developing and moving NE to pass just to our east. While there was one cell east of us, we could see 3 other cells extending in a line right round to our SSW! we waited in anticipation of a decent cell, and were informed that distant storms east of Glen Innes were in the red. We decided to wait this out. By 10pm things were going off! Branched CGs, roll clouds and awesome cloud structure. I'll let the photos speak for themselves!
These two images are cropped from 2 photos above:
The following photographs are a selection taken by Michael Bath from the eastern outskirts of Alstonville. Click here to see all 66 lightning photographs taken: [Page 1] [Page 2] - almost all were shot at F4, 100 ASA film, 50mm lens.
The following six photographs were taken by Ray Mullens from Goonellabah.
Rodney Wallbridge captured some lightning on his video camera:
If you (or someone you know) have any photographs or video of this event, please feel free to contact Michael Bath. Your contributions are very welcome.
---
Media Reports
---
Radar
From Bureau of Meteorology.