---
Chase text by Dave Ellem

Friday October 21st

After a spell of boring weather, Friday the 21st looked like it would finally bring some decent thunderstorms to the Northern Rivers. There was plenty of instability (LI around -4) and good wind shear with a nice upper trough approaching, however cloud was a concern. A thick cloud band had developed the previous day and had moved over the Northern Rivers during the early morning. Imbedded in the cloud band was a line of surprisingly lightning active thunderstorms. The line was quite slow moving and it soon became apparent that the cloud was likely to clear too late to allow enough heating for afternoon storms to develop. But the morning storms were still quite good. Around 11.30am a weak gustfront started to appear to the west.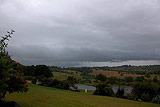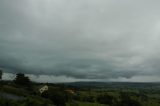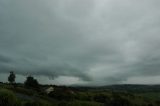 There were fairly regular rumbles of thunder overhead now, however there were a surprising amount of CGs hitting within a few kilometres of me, letting out really loud cracks of thunder that were quite startling at times. However there was on strike that I will never forget! With light rain falling ahead of the gustfront, and a generally weak, messy looking storm, I thought it was not real risky climbing onto the roof for a photo of the gustfront approaching.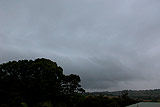 As I climbed up to the second story roof on our house for a photo, I heard a fizzzzzzzzzzzzzzzzzzzz BANG!!!!!!!!!!!!!!!!!!! I was momentarily blinded by the intense flash of light before it clicked what had happened. A CG had hit just near the road in front of my house - less than 50 metres away from me!! It was the closest CG I have encountered while being out in the open, and it did not take much (any!) convincing for me to immediately dive into the open upstairs window to get under cover! I was actually quite shaken by the experience, and my dog, who hates storms, had gotten such a fright from the crack that he had vomited all over the carpet. Yuck! So after getting that cleaned up, attention turned back to the storm, with several more close CGs pounding the area and taking out the power at Wollongbar. All up the storm produced 29mm of welcome rain at my location, and despite the cloud clearing too late for better storms that afternoon, I was thankful that I was actually still alive!

Some storms moved slowly into the western parts of the Northern Rivers late that night, with quite frequent lightning observed at times, so I headed out on chase with Rodney. However cloud cover and weakening storms meant that we were pretty much left with nothing by the time we got to Parrots Nest, south of Lismore.

Saturday October 22nd
What a difference a day makes! The upper trough which had triggered storms the previous day was still lingering over the coastal fringe of the Northern Rivers and Mid North Coast, with CAPE values around 1000 right on the edge of the coast. Moisture had really dried out from the previous day though, allowing for surface temps to get to around 30c. However it was so dry that only weak, moisture starved storms developed and were confined right to the coast. There was some nice looking convection down around the Wooli area in the afternoon at one point, with a severe thunderstorm warning issued given the risk of damaging winds and large hail with the dry but cold upper atmosphere.




Michael, Beck, Rodney and I all ended up at the lookout at Broadwater to observe some of these storms, including quite a powerful looking one offshore, during the afternoon. The activity mostly cleared out to sea by late afternoon.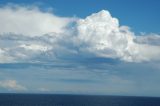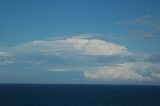 Sunday October 23rd
The offshore trough had retreated inland a little by mid Sunday, bringing CAPE values back up to around 1500 j/kg and LI values down to around -4 right on the coastal fringe of the northern parts of the Northern Rivers. Moisture was a real problem now however, with a significant dry slot at around 700hPa. This prevented most of the convection near the coast during the afternoon from fully developing into thunderstorms. I spent the afternoon fishing down at Ballina and watched as a cell to my NW produced numerous turkey towers and orphan anvils as it tried, and tried, and tried to develop into a thunderstorm.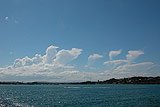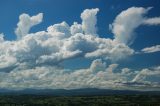 It eventually got going, although was pretty low topped and high based and didn't last long. It did however manage to put out quite a nice clear-air CG lightning bolt which was observed by Michael from his home at McLeans Ridges. The cell only put out a few rumbles before decaying fairly quickly.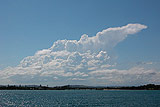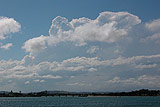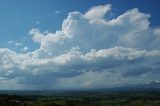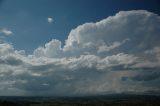 Earlier, one storm also managed to get going near the NSW/QLD Border behind Coolangatta, but it was also short lived.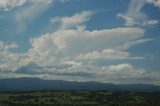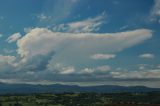 By late afternoon a substantial deck of stratocumulus cloud had moved over the coastal area behind the sea breeze front. While I originally thought this was annoying and our chances for storms were over, some storms had begun to develop on the Richmond Ranges well to the west of us. The storm looked pretty impressive so Michael, Beck and I headed out to Parrots Nest for a look. The storm to our WSW looked like a mushroom cloud, and reminded us of a similar storm in a similar location earlier this year. As was the case with that event, it failed to produce any lightning once we arrived at our target spot (one CG was observed on the drive towards it), and we were left having to create our own lightning!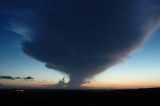 Monday October 24th

Today was looking set to be the first severe storm outbreak for the season. LIs were down to -8 in the Northern Rivers, with CAPE values above 2500 - a very unstable atmosphere. There was more good news however, with low level shear rather strong as well as reasonable turning. In fact shear was strong enough in Southern QLD and Northern NSW for the small possibility of tornadoes. Supercells however seemed almost guaranteed, and would move generally in a SE direction. There were two problems with the setup however - there was a lot of upper level moisture, making cloud a concern, and upper level winds were rather slack, meaning that any cloud that was around wouldn't move away too quickly. We were still reasonably confident of severe storms in the Northern Rivers none the less. Michael and I planned to head out west of Casino as soon as he finished work to get into position early. By the time we made it to Casino, cells were developing right along the Great Divide, with very strong looking activity well to our SW and NW. The sky above us was screaming unstable with the cloud formations that were present!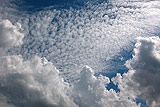 Unfortunately, a strong storm towards Stanthorpe had developed and resulted in a heap of anvil cloud moving over our target area at Mallanganee, and while strong looking convection was present on the ranges to our west, it was obvious that it was struggling given the lack of sunlight heating the ground. Storms to our NNW and SSW continued to look quite strong, and it was really frustrating being in the middle of it all with not much happening. We later learned the Stanthorpe cell produced hail for 55 minutes and a large funnel cloud.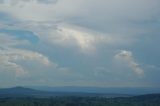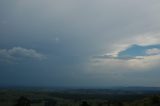 While a larger rain free base had persisted to our W for nearly the whole time we, it wasn't till around 4.30pm that we noticed the storm starting to take on features that would indicate the storm was rotating. Given the strong low level shear it certainly wasn't out of the question! So our attention turned to this cell with the Stanthorpe cell barely moving towards us. The evolution of the updraft region of the storm was quite spectacular, but again, it was so frustrating that it was fairly distant and not in a chaseable region. The cell soon started producing some spectacular and very welcome CGs, and provided some entertainment for the meantime.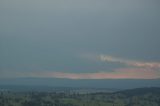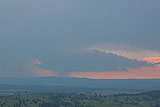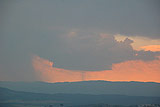 With the possible supercell to our WSW decaying and the storm to our NW very slowly approaching, we decided to push further west to Tabulam to intercept the cell. We observed a strange scuddy region on the cells southern side, but that whole storm was very messy looking. It was however very lightning active, with some amazing anvil crawlers going overhead and some CGs hitting not too far away!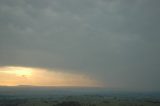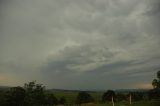 Our attention was also snapped up by a cell to our S. Spectacular updrafts were exploding upwards at the rear of the storm, and were made even more photogenic by the late afternoon sunlight. Radar later revealed that the possible supercell we observed had in fact split. The left mover (the one we photographed) had decayed earlier, but we later discovered that the cell we were watching explode to our S was in fact the right mover of this splitting pair. It was rather impressive given how long that storm had survived from its initial updraft!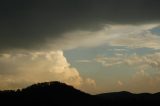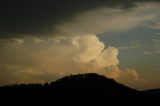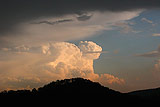 The cell to our NW looked very weak and didn't seem to be moving, so we headed back to Mallanganee for a radar update to decide whether the strong storm to our S was chaseable. On the drive back, bright purple glows would occur behind us, giving quite an eerie, but exciting feeling! These CGs continued when we arrived at Mallanganee, and were spectacular to watch given the elevation of out position. At the time, our high location next to several communication towers was perhaps a little discomforting, and every time lightning occurred in the cell to our NW all the equipment around us made a loud buzzing noise! Radar revealed that the activity to our NW was still messy and hardly moving, and the cell to our S was moving SE, so it was not able to be chased.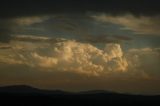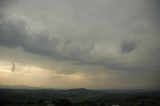 We decided to head back to Casino and grab some dinner. As the sky grew dark, attention turned to lightning photo possibilities, and with activity surrounding us, we decided to setup the cameras NW of Casino. There were some close strikes from a short lived cell close by, however most of the activity was further to our N, S and W. While it was hard to photograph the lightning, there were some amazing anvil crawlers that seemed to go in every direction across the entire sky, lasting 3-4 seconds in total! So the show was quite enjoyable despite the lack of close activity.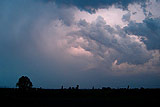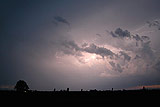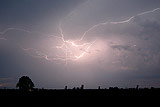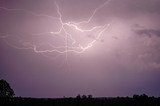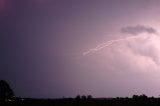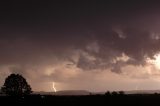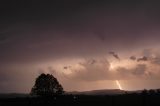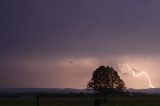 We call it quits around 8.30pm when light rain made photographing the lightning too problematic. The storms eventually moved over, providing some spectacular lightning right near our homes. Below are some of the lightning bolts captured, mainly from a SE moving storm that gave severe weather at Murwillumbah. Eventually all the activity moved out to sea.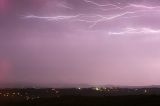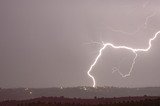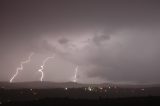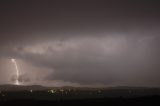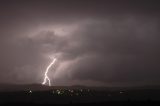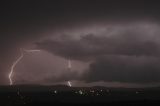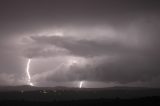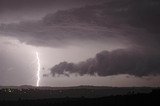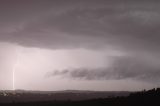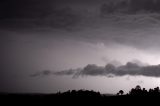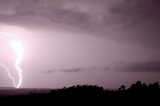 Check out Part Two of this 8 day outbreak of storms in the Northern Rivers.
---
Radar