---
If you have any photos or video of funnels or tornadoes taken in Australia and wish to have them displayed on this website, please contact us.

See also:


---
Tornado Alley Chasing 2007
Although 2007 did not provide the most classic tornadic setups, for those who decided to chase were able to intercept some reasonable storms and tornadoes. In all, Jimmy Deguara intercepted several tornadic supercells with at least 7 confirmed tornadoes (and not including the massive Greensburg tornado and others still to be investigated). The supercells in some cases provided excellent photographic opportunities.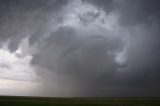 13th April 2007 - although not on the Seymour wedge tornado due to road options, the storm produced a serpentine funnel from the developing tornado. Later on approaching an HP supercell near Fort Worth dangerous giant hailstones prevented an intercept of yet another tornado.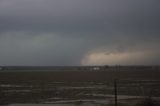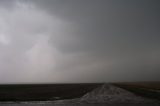 21st April 2007 - intercepted a very large truncated tornado in southeast Colorado SE of Lamar. Extremely rapid storm scale rotation was observed with this storm wrapping rain hiding the tornado from view. Another funnel cloud was observed further north though contact on the ground could not be confirmed.
Feel free to view video of this Colorado tornado.

---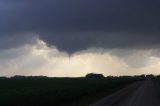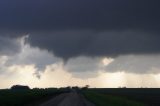 24th April 2007 - what promised to be a potentially dangerous situation became a day of frustration. But alas, a low topped supercell developed and given the strong shear produced two tornadoes. One of these tornadoes consisted of a nice white funnel and dust debri cloud with a green field in the foreground.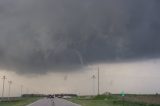 After the first tornado, a serpentine funnel was observed under the rapidly rotating wall cloud. Debri whirls once again spun up under the rapidly rotating wall cloud. A second mesocyclone developed near Nickerson with yet another brief tornado just north of the town.

---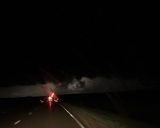 4th May 2007 - This event will go down in history as the one where Greensburg Kansas was devastated by a very large and extremely dangerous tornado with a path width up 1.7 miles wide. The supercell spawning this tornado had already produced an earlier tornado near Stillwater and went on to produce another even larger 1.8 mile wide tornado just east and northeast of Greensburg and other large tornadoes further northeast over a 6 hour time span. Video stills of the tornadic supercell in Greensburg will be posted here.
May 4 2007 Greensburg Tornado video stills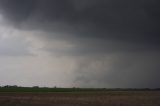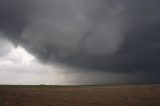 5th May 2007 - Another potentially dangerous situation on this day as supercells trained a similar region near the tornado ravaged town of Greensburg. One supercell finally produced a few brief touchdowns from probably one or two tornadoes southeast of Greensburg and north of Pratt. Yet another serpentine funnel was observed from the wall cloud which was allowed to move on in order to head back southwest. More tornadoes occurred during the evening and night period once again.

---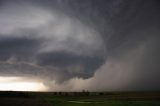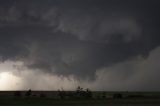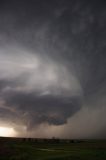 22nd May 2007 - This event was one of the highlights of the season complete with impressive vault structure. The first supercell produced a funnel cloud but no confirmation could be established. Initially, a possible tornado was observed from the first mesocyclone in low contrast with bright sunshine.
The tornado from another mesocyclone emerging out of the precipitation of the second supercell. It lasted about 6 minutes and developed under an impressive base complete with vault region complete with rope out.
---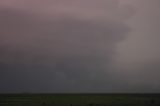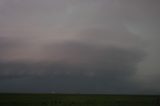 23rd May 2007 - Finally a Texas Panhandle chase - a few supercells developed along a boundary and trained each other towards Libscombe County. Although a few brief touch downs were reported, one spectacular HP supercell with rapid rotation spawned a funnel cloud and probable tornado with wet rear flank downdraft cutting through finally wrapping precipitation around the large funnel.

---
31st May 2007 - An unsual HP supercell exploded in extreme southeast Colorado venturing across the border into the Oklahoma Panhandle threatening the town of Guyman. As it matured from a dry higher based spiral structure into a typical wet structure typical of HP supercells, it maintained its strong rotation. Finally, several miles west of Guyman, the supercell once again attains serious rotation spawning a large tornado with one of the funnel vorticy emerging out of the rain.
---
Tornado Alley Chasing 2005
2005 provided to be illusive for chasing tornadoes in the US - though tornadoes were intercepted with one unique LP tornado.

5th June 2005 Oklahoma tornadoes

---
7th June 2005 South Dakota tornadoes
---
Tornado Alley Chasing 2004
12th May 2004 Kansas tornadoes

Tornadoes demolish houses southern Kansas Tornado Alley : 12th May 2004 - Page 01
---
24th May 2004 Nebraska and Kansas tornadoes
Tornadoes southern Nebraska : Tornado Alley : 24th May 2004 - Page 01
29th May 2004 Oklahoma tornadoes
Massive HP supercell spawns huge hail and tornadoes near Oklahoma City : Tornado Alley : 29th May 2004 - Page 01
---
Tornado Alley Chasing 2001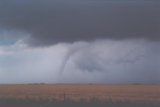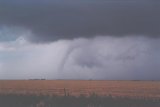 These tornadoes were spawned by a cyclic supercell in the United States on the 29th May 2001. It produced 5 tornadoes including a large one probably with an intensity reaching at least F3 probably F4 (although this may be difficult to confirm). See Chase in Tornado Alley 2001 - Special Report: Episode 2
---